The most well-liked summer vegetable is the tomato, which like other vegetables has a variety. Tomatoes come in more varieties than we realize, ranging in color from black to orange and every shade in between. So, what are the best kinds of tomatoes for making tomato sauce? We will introduce 10 kinds of tomatoes for you to make tomato sauce in this article.
What Makes The Best Tomatoes For Sauce
Low Seed Content
While it goes without saying that you should discard the stem, the majority of traditional tomato sauce recipes call for using the entire tomato, including the core and all of its seeds.
Imagine having to remove the seeds from the tomatoes before adding them to the sauce.
Numerous pounds of tomatoes are required to make tomato sauce; it would simply be impractical to have to core each tomato to remove the seeds.
Chefs then choose tomatoes with a low seed content to solve the issue at its source.
Low Water Content
Some of you might find this to be surprising, but it is a reality. Tomatoes that lack a lot of juice make the best sauce. Because you want to use tomatoes that will reduce to a thick, creamy consistency, this is what you should do.
You don't want your tomato sauce to be thin and watery, which is what juicy tomatoes will do.
Fleshy
The fact that they should be fleshy may seem obvious now that you know that the best tomatoes for sauce have low water content.
To produce a thick sauce, tomatoes should ideally be fleshy and have thick walls.
Does that imply that a tomato's size should not be considered? The answer is yes, provided that the ratio of tomatoes with little water content to those with a lot of flesh stays the same. This allows for the use of fewer tomatoes to achieve the same weight.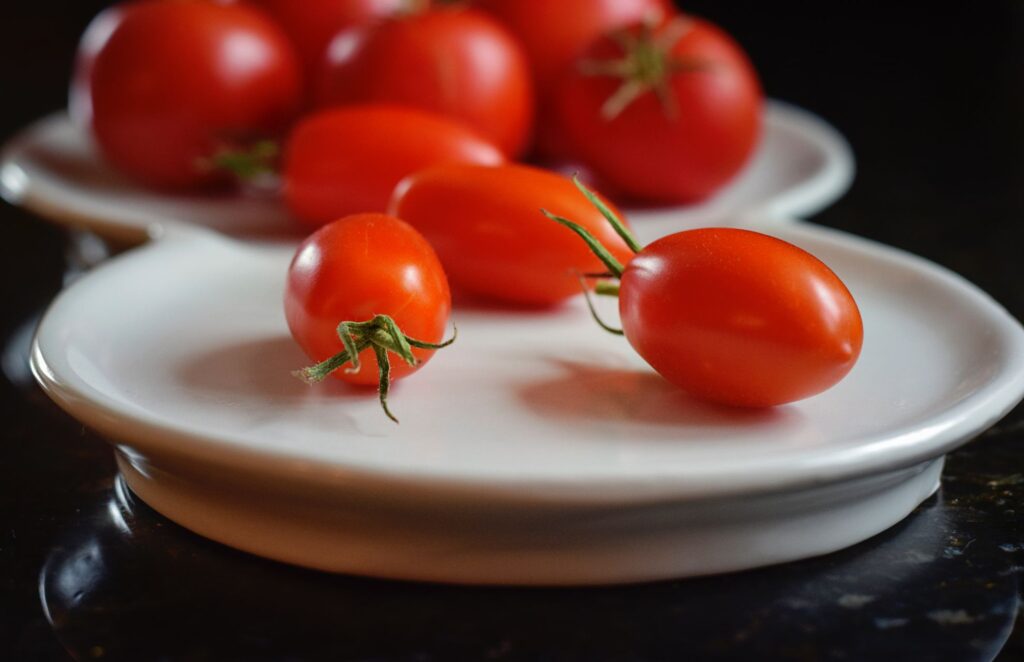 Determinate Variety
If you grow your own tomatoes, you are probably already aware of the distinction between determinate and indeterminate tomatoes. This distinction has nothing to do with the tomato fruits themselves, but rather with the plants themselves.
All of the tomatoes for the season are produced by determining tomato plants in a period of one to two weeks after they reach a predetermined size.
The Best Tomatoes For Sauce
San Marzano
For more than a century, the Italian heirloom tomato San Marzano has been prized. Its low water content makes it the ideal tomato for sauce.
San Marzano tomatoes are a favorite among chefs because they have fewer seeds than other varieties and a lot of flesh, both of which are necessary for naturally thickening sauces.
Roma
It's difficult to top Roma tomatoes because they are a classic. This well-liked tomato is primarily used to make delicious tomato sauce and paste. Few seeds and firm, thick flesh characterize Romas.
Romas' high level of disease resistance is one advantage. Although they do well in greenhouses and in containers, they really flourish in sunny outdoor areas. For these plants, make sure they have sturdy supports; otherwise, the vines might break before the fruit ripens.
Giulietta
Giulietta is a sizable, egg-shaped Italian plum tomato that bears fruit from July to September. It thrives in greenhouses, cool climates, as well as sunny outdoor locations.
One thing to be aware of is the size of Giulietta tomato plants, which typically grow up to six feet tall. To keep from toppling over and hitting the ground, they need to be staked. Large yields are produced by the indeterminate plants.
Super Italian Paste
This tomato is an additional Italian heirloom variety that bears reddish-orange fruits with meaty, dense flesh and few seeds. This mixture demonstrates why it is a preferred ingredient for tomato sauce.
These tomatoes are vine-grown varieties that don't all ripen at once. They thrive in containers, but it's best to grow several of them, starting at various times, to spread out your harvest if you intend to use these as the main ingredient in your tomato sauce.
The main issue with Super Italian Paste tomatoes is that they are susceptible to blossom end rot, which is brought on by a calcium deficiency in the soil. Keep in mind that too much moisture will cause a late blight on the plants.
Viva Italia
This tomato variety is highly regarded by cooks and gardeners who like to make the sauce. Tomatoes from Viva Italia have a fantastic flavor when raw, and their flavor only gets better when cooked.
This variety thrives in warm climates and enjoys the heat. Expect your first fruits to be ready 90 days after the springtime planting. It's a simple plant to grow that can be used for both container and in-ground gardens. Make sure to offer a stake or support structure for the best growth.
Big Mama
Big Mama tomatoes are enormous and in charge, as you might have guessed from the name. The first tomatoes appear 90 to 110 days after planting on these plants' prolific tomato crop.
Due to its high flesh density and small seed count, chefs prefer this tomato. It takes longer to boil down or should be used in soups because it has a higher moisture content.
The plants should have enough support because they are not small; otherwise, they will topple over. The plant won't grow well unless the soil has good drainage.
Amish Paste
When it comes to texture and shape, Roma and Amish Paste tomatoes are very similar. With a firm, meaty flesh and few seeds, they are a traditional paste tomato.
Roma and Amish Paste tomatoes are fundamentally different from one another, with the latter having a sweeter, fresher flavor that some people prefer in their sauce.
For a paste tomato, these tomatoes can weigh up to 12 ounces, which is regarded as being large. Due to their size, the plants need to be staked. Within 90 days of transplanting, anticipate a harvest.
Costoluto Genovese
Another Italian variety that is excellent for tomato sauce is this one. Costoluto Genovese tomatoes are renowned for having a strong flavor, making them perfect as a sauce tomato and for slicing for sandwiches.
Along with having a high acid content, Costoluto Genovese facilitates safe canning. The tomatoes weigh up to eight ounces and have heavy lobes and meaty flesh.
Opalka
The Polish heirloom tomato known as Opalka is more flavorful and rich than other paste tomatoes. These tomatoes have thick flesh, few seeds, and a strong flavor, making them ideal for making tomato sauce.
Because of the indeterminate nature of this tomato plant, the fruit ripens all season long. The fruits begin to grow on the plant about 85 days after transplanting.
Jersey Giant
This heirloom paste tomato is challenging to find, but if you can, it's a great choice for gardeners. Heavy yields are produced by Jersey Giant tomato plants, and the fruits are about six inches long.
This New Jersey canning tomato has rich, meaty flesh that is much tastier than contemporary paste varieties. The fruits' lack of seeds makes it even simpler to achieve the ideal consistency for tomato sauce.